Flexibility in Clinical Supply Manufacturing
Lyophilization Technology, Inc. has experience with a wide variety of products, from vaccines to IV therapy presentations. We provide aseptic filling of preclinical and clinical (Phase I and II) materials. The Clinical Trial Materials we produce are of the highest quality and purity, meeting US and EU requirements. Our Clinical Manufacturing Area (CMA) is fully cGMP compliant. We are able to capitalize on our distinct flexibility to meet or exceed your expectations while adhering to aggressive project timelines. We have developed procedures to minimize production losses and maximize yield which is critical when producing small batches with valuable API.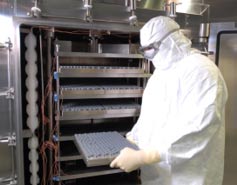 Our CMA includes separate controlled areas for warehousing, preparing materials, compounding, filling, and inspecting. The operation has been inspected and approved to handle BSL-2 materials and qualified for containment and aseptic processing. Stringent environmental controls within our facility allow for a superior level of purity in your finished product.
When you're ready to take advantage of our expertise and flexibility, contact us so we can schedule your onsite GMP audit.